The world is in the aftermath of Covid-19. Hotel and restaurant businesses have been hit hard with some closing down forever. The ones strong enough to survive are on a fast track to growth like never before. They have a finger on the pulse of the market and adopting innovative revenue-generating strategies to fit in with the times. It is also true that while doing so they are being very cautious about spending money on marketing activities and are using their funds wisely. Hence, food suppliers are scouting for less expensive options in food delivery bags and boxes which can help them with their marketing, as well. BikeKit, one of the most well-known food delivery box manufacturers in UAE, has sensed this need and once again has introduced a revolutionary product – the Budget Box.
The Budget Box is an economically priced food delivery box with features that are far from basic. Unlike other food delivery boxes, the Budget Box is made from FRP (fiber-reinforced plastic), hence a complete shell is mounted on a bike. Since the FRP-made box has a streamlined shape, it can carry a lot of food items that also stay in place. It is a good idea to use FRP as it has several advantages as compared to other materials. For one, it is not only strong and durable but also light in weight. Also, it resists corrosion, does not succumb to mould or mildew, and lasts for much longer – all the factors which make it a cost-effective choice. And what's more, it can be made and installed in very little time!
BikeKit, an established food delivery box supplier, realizes the importance of time and convenience for the B2B category, hence both have been executed in the Budget Box. To accommodate several food orders, the interiors of the box measure 44x46x48 cms, which is large. In this way, the rider doesn't waste time constantly visiting restaurants for pickups, he just carries many orders and delivers quickly.
BikeKit has taken innovation very seriously. As certain food and drinks are meant to be consumed hot, the interiors of the Budget Box have thermal insulation. Now there is no chance of the food being lukewarm, instead, there is a guarantee of having happy customers who get their order quickly, hot and fresh.
The Budget Box is an effective and low-value marketing tool, as well. In the branding area that measures 41×41 cms companies can give their logos, taglines, and contact details. The LED panels measuring 38×38 cms provide even lighting and make the rider 'shine'. The box can be made as per specifications of size and color and is known to attract a lot of attention from passers-by. The bonus is that the rider can be seen from afar. Imagine all this and more on a 'budget'!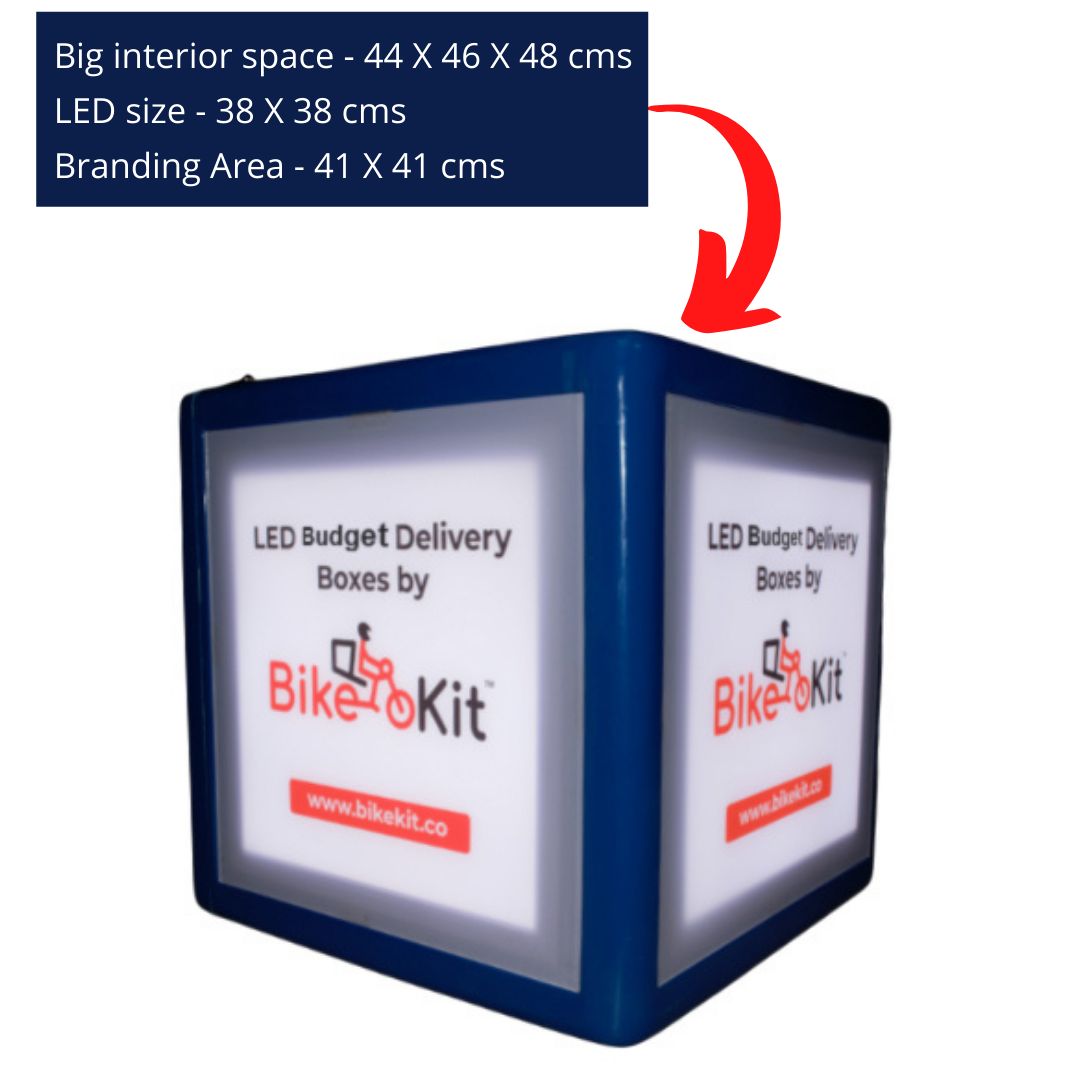 A conscientious company BikeKit cares for its buyers and provides exceptional after-sales service support through warranty and AMC. To cater to its list of ever-growing clients, it is looking for like-minded distributors in different locations of the world.
So, to give wings to your business order your Budget Boxes now!