Use Cases
BikeKit® is a leading provider of last mile delivery products & services to many companies. With our products being used in more than 20 countries now, we also receive a lot of customized requests and even unique requirements from customers. We are proud to mention that our R&D team takes all these requirements with great enthusiasm & works its best to provide a sustainable & feasible solution at reasonable prices, keeping in mind the challenges of mobility & form-factor. In this section of 'Use Cases,' we have presented unique requirements or problems (which we received) & their successful solutions given by us.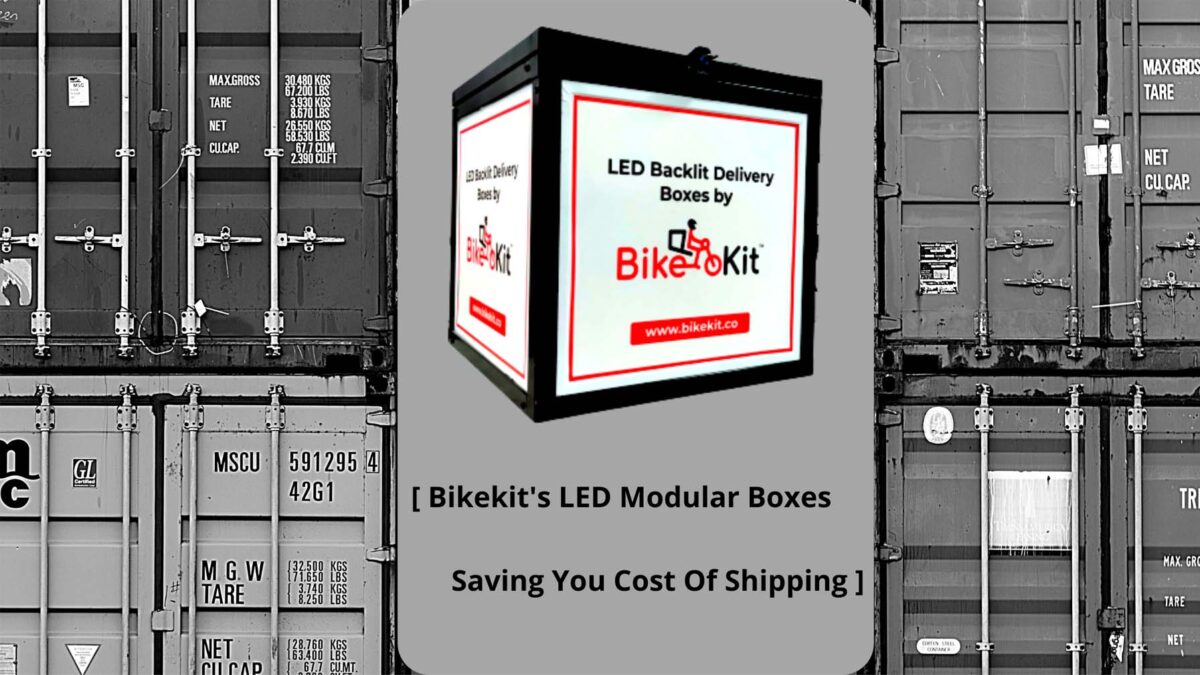 BikeKit's Modular Delivey Boxes Saves USD 20,000 for Jovi In Shipping Cost
In the current light-of-situation the biggest challenge with procuring goods from overseas is the massive cost of shipping. Considering that standard delivery boxes are manufactured in a single shell structure; it occupies more space resulting in sky rocketing the cost of shipping. How to bring the shipping costs down? What is the success mantra? The […]
PackaGo is a last mile delivery company based out of Nigeria. They wanted to increase their brand visibility with a budget friendly solution and also something that's easy to implement.
PackAGo combines all the restaurants, grocery stores, pharmacies, and various other businesses on a single platform that allows users to order anything luxuriously. With increasing competition, there are many last mile delivery companies who are also doing similar stuff. Differentiating one-selves from others & at the same time establishing a brand recall is a challenge […]
How Jovi, one of the upcoming 'Last Mile Delivery' players in Pakistan, is making a huge splash & growing rapidly with superb brand recall, by using LED Delivery boxes
The boom of Last Mile Delivery is happening all across the world. The founders of Jovi, spotted a huge void in important cities of Pakistan and thought of tapping the market by launching a high-tech yet simple mobile application that allows consumers to order anything from anywhere in Islamabad and Rawalpindi at any time of the day from 8 am until 12 midnight. As a start-up, marketing their brand & reaching out to potential customers, and achieving a huge user base, was a big challenge. This challenge was addressed by BikeKit's LED Panel Delivery boxes, which cannot be missed by anyone on the roads & has a potential to create a huge brand recall.
Here-O Donuts, a start-up in Dubai, wanted to differentiate itself from the big chains, by delivering donuts to its customers at the right temperature
Food delivery to customer's doorsteps has been happening for a long long while. Over the last decade, this has got massively boosted with the advent of Last Mile Delivery companies and thus, delivering food is no longer a novel concept. However, novelty can be bought into this, by delivering food at the right temperature. Hot food hot & cold food, cold!
How Aster Pharmacy, one of the biggest healthcare players in UAE, uses BikeKit's cold boxes to deliver medicines.
When food, groceries, dairy products and so many other things are getting delivered at home, how can medicines miss the bus? But delivering medicines is not an easy task. Right temperature & proper packaging are very essential for 'safe delivery' of medicines.