Here-O Donuts, a start-up in Dubai, wanted to differentiate itself from the big chains, by delivering donuts to its customers at the right temperature
Here-O Donut, a start-up in Dubai, was looking for delivery boxes with cold modules. Their idea was to deliver donuts to their customers, fresh & tasty, without facing the issues of frosting or cream getting melted due to Dubai's heat & high outside temperature.
With customers becoming more & more demanding & their expectations from restaurants also increasing, we at BikeKit feel, it's not wrong for them to expect food to be delivered at the right temperature so that its freshness & taste is retained perfectly. Restaurants doing so, will not only have very highly satisfied customers but will also increase their ROI phenomenally.
What is the use case about?
Delivering fresh doughnuts in a cold delivery box (at a desired temperature) to their customers.
Who are the stakeholders / parties involved?
Client: Here-O Donuts
Solution Provider: BikeKit
Trigger
Maintain the taste & freshness of delivered doughnuts, as if a customer is having them at the restaurant.
What are the Pre-Conditions?

LED Delivery box that can be mounted on a motorbike.
Temperature inside the delivery box to be maintained between 10-15*C.
Customers can order doughnuts at any time & once order is received, the delivery box should be ready to carry the delivery. Time shouldn't get wasted in cooling the box, which can lead to delay in delivery.

What are the complexities that are involved?

In UAE, the Outside temperatures hovers at 40*C++ in for at least 4-5 months of the year.
Cooling solution cannot be 'power based,' because the bike battery cannot support high voltage or heavy power requirements.
Order can come anytime, hence, the delivery box should remain in 'right temperature' to immediately carry the delivery.

Flow Of Events

Here-O Donuts – a new start up in the UAE who make fresh baked doughnuts, approached Bikekit with the need of a cold delivery box that is compliant as per the regulatory norms.
Bikekit's team understood the complete requirement in detail.
After the successful creation of the complete solution i.e. LED Delivery Box + EPS Insulation + Hard Case Ice Gel Packs + Straps, a sample box was prepared for testing purposes. The box was also branded on 5 sides as per creatives provided by the client.
Testing (Week 1): The box was installed on one of their bikes, and they did a pilot test for a few days to check the performance of the boxes and the quality of the delivered doughnuts.
The successful delivery of desired results, made 'Here-O Donuts' confident of our product & a final order for 5 boxes was placed.

Main Success Story
The goal of doing last mile delivery of fresh doughnuts to end customers was met successfully.
To know more about these cold boxes or for any other customized requirement, just drop us an email info@bikekit.co or message on +971-58-593-8165
Gallery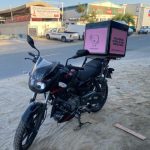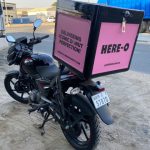 Products In Use
LED Premium Delivery Box

World's first semi-knocked down or modular backlit LED boxes, is a 'Patent Pending' & 'UAE Industrial Design' approved product. The boxes serve the dual purpose of being used for doing deliveries & also enhancing brand visibility.

Cooling module

Keep your deliveries cold all the way from the store to the customers' home. BikeKit's boxes or bags can be equipped with customized high-grade EPS Insulation complemented with 'Hard Case Gel Packs.' It will help in delivering items like ice-cream, frozen items, meat, milk, chocolates and even medicines at the right temperature.

| | |
| --- | --- |
| Temperature | 4 - 8 degree |
| Duration | 8 - 10 hours |
×
Please subscribe to read full use case