There was a time when one had to personally visit a restaurant to pick up food if one wanted to eat at home. From the paper menu, one would make a request and was then informed that the preparation would take a minimum of 45 to 60 minutes. One either continued to sit in the restaurant or decided to run errands. It is true that eating out was nothing short of an event! Then came a time when food started to get 'delivered' by just making a phone call. After an hour, the order would be delivered in a plastic bag by an uninterested and shabbily dressed person who rode a bicycle. Like the era, delivery of food too was relaxed and easy. Cut to digitization and zest and zip were born. Today food delivery is being done by articulate and uniformed men on motorcycles! It is the awakening of innovation in the world of food delivery.
The year 2018 saw a turning point when BikeKit, a company in Dubai, dedicatedly started to manufacture delivery bags and boxes to carry food, grocery, medicines, and documents for the B2B industries. The product portfolio included LED delivery boxes, plain delivery boxes, LED bags, and plain delivery bags, BikeKit has well and truly harnessed IoT technology and made them SMART. Recently it has added a colorful feather in its cap by creating the Budget Box. Made from FRP material, it looks posh and at the same time is value for money. Simply put they are already the best motorcycle delivery boxes in UAE.
In another part of the globe, BikeKit's distributor in the UK revealed that the Budget Box is fast gaining popularity because it is light in weight yet strong and durable. It is made from FRP (fiber-reinforced plastic) the idea is to create an ergonomic box design where the complete shell is mounted on a motorbike. Its sleek shape and large interior space that measures 44x46x48 cms allow the rider to carry several orders at one time thus saving time and energy.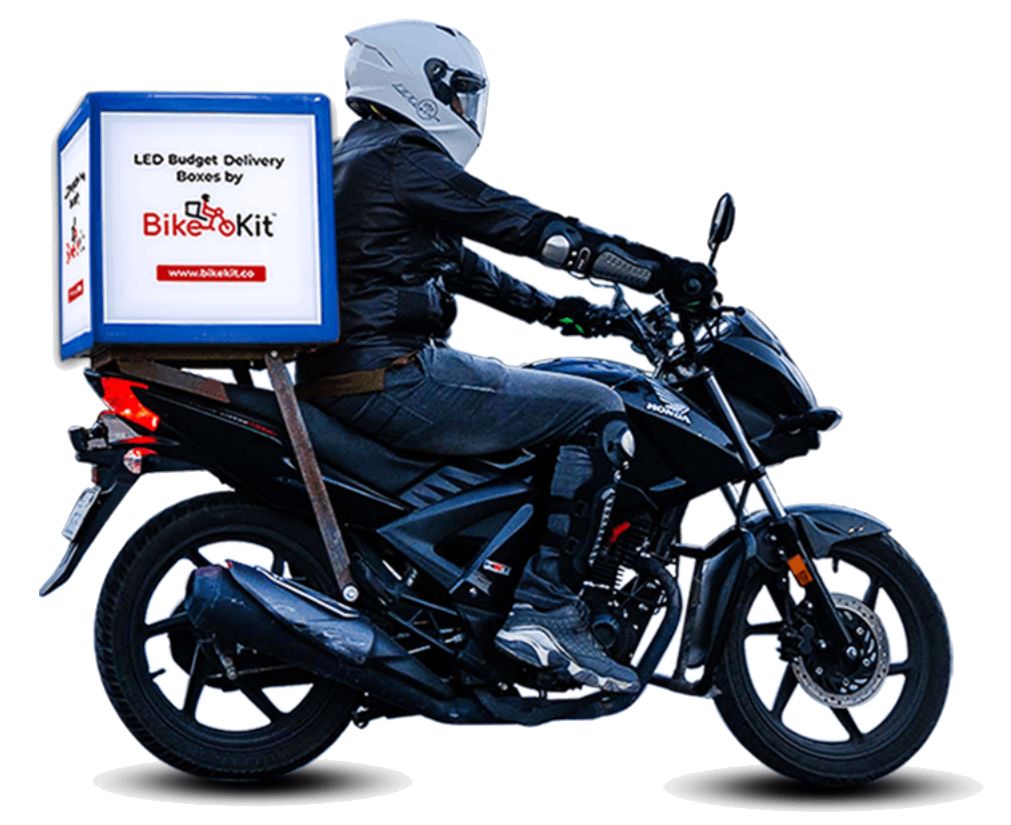 The motorcycle food delivery box offers a great and economical marketing opportunity, as well. On the box, there is a space of 41×41 cms that can be used for branding purposes by companies. They can advertise their logo, tagline, and even contact details for people to see. There are LED panels measuring 38×38 cms that light up which makes it easy for people to not only read but also raises their curiosity. What's more the box can be made as per specifications of size and color.
To take a product up by many notches the interiors of the Budget Box are lined with thermal insulation. When an order comes with an instruction of 'hot food', BikeKit makes sure that 'hot food' is delivered. This is a great strategy to keep new and old customers happy and satisfied.
With the Budget Box, BikeKit has once again created a unique offering that brings relief to those companies looking for economical food delivery options. The Budget Box is a must for a successful food delivery season!