The year 2020 marked the beginning of chaos as the Coronavirus pandemic took over. Overnight industries were shut down, death and loss became the buzzwords and it appeared as if 'survival of the fittest' had just been translated afresh. It was a time when the world came to a grinding halt and yet, hope loomed on the horizon. With lockdowns happening everywhere, it became difficult to get even essential things like food, water, toiletries, etc. from a nearby grocery store. Fortunately, the last-mile delivery companies had already started mushrooming in early 2017 / 2018. The COVID situation, accelerated the growth of all these companies & from being a luxury of ordering things on an App, this suddenly became a 'saviour.' One could order anything on click of a button & get stuff home delivered. Last-Mile Delivery & Logistics companies gained momentum and soon an army of courier boys were seen dotting the streets, each delivering food, medicines, and much more.
Ankit Agarwal, a serial entrepreneur with 23+ years of experience has always believed in innovation & forward thinking. The boom of Last Mile Delivery companies encouraged him to launch BikeKit in 2018. BikeKit is a one-stop shop for all the products that a company needs in its delivery arsenal. It manufactures unique products & provides SMART services in the areas of Delivery Solutions, Rider Safety, and Rider Wellness. In four short years BikeKit has re-written the rules of the game, and its products are exported to more than 20+ countries from its Dubai Headquarters.
Who could have thought back in 2018-19 that in merely two-three years logistics would be one of the top revenue grossing businesses globally?
BikeKit's innovative LED Delivery Bags
Delivery bags have been around since past many years. Available in different sizes, colors, materials, etc. they are used for carrying a host of items. BikeKit's team thought of innovating this product & came up with the idea of adding backlit LED panels to these bags.
So, the LED Delivery Bag, is a unique 'lit' offering! One cannot miss it, as the 12 V panel, either connected to the bike's battery or a customized power bank, can be seen shining bright, even from a distance of 50 Meters! Needless to say, it attracts people near and far and hence, acts as a great branding or marketing tool. The bag, made from strong fabric, displays superior stitching and has adjustable straps that provide maximum comfort to the rider. What's more, the LED Delivery Bag also takes care of road safety, as the rider becomes more visible in dark or cloudy conditions.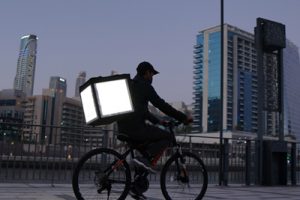 BikeKit also offers 'Plain Delivery Bags' which are reasonably priced and offers ultimate ergonomic comfort to the rider. Made with high-grade quality raw material, it is neatly stitched and has cushioned and adjustable shoulder straps that provide immense support to the rider.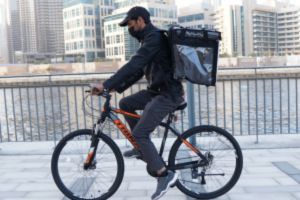 Both the bags are for courier delivery and are suitable for delivering medicines, groceries, food, and documents, and depending on their use, hot or cool modules can also be added to further enhance their superior utility. Bags can be customized as per a company's requirements. These bags can either have a top opening flap or both top & side opening. Bags come with superior quality insulation to keep the food at its desired temperature.
LED Boxes
Apart from Plain & LED Bags, Bikekit also manufactures LED Boxes. These are big 50×50 CM boxes, with a huge 46×43 CM back-lit LED Panels on 3 sides. The boxes are ideal for installing it on a motorbike or scooter.