Who would have thought that a simple idea based on convenience and utility could create such a stir! But it has and rightly so! BikeKit is in the business of manufacturing cutting-edge delivery boxes and bags for the last mile delivery industry. It has made a name for itself by offering products that combine practicality with smartness thus securing its position of being number one in the category of LED Box manufacturers in UAE.
With a focus on offering innovative and practical solutions for Last Mile delivery players, BikeKit has mindful services and products in the verticals of Delivery Solutions, Rider Safety, and Rider Wellness. Since sustainability is at the heart of the company, it is only natural for them to extend it in their product range, especially when they carry sensitive items such as food, grocery, and medicines. Hence BikeKits' unique products are carefully designed by experts in Dubai who use only recycled material to create boxes and bags, unlike other common boxes or bags that are made from inferior material. BikeKit has emerged as a beacon of light for logistic companies and retail businesses that require more now than ever well-designed delivery boxes and bags of good quality and ones that cater to multiple industries.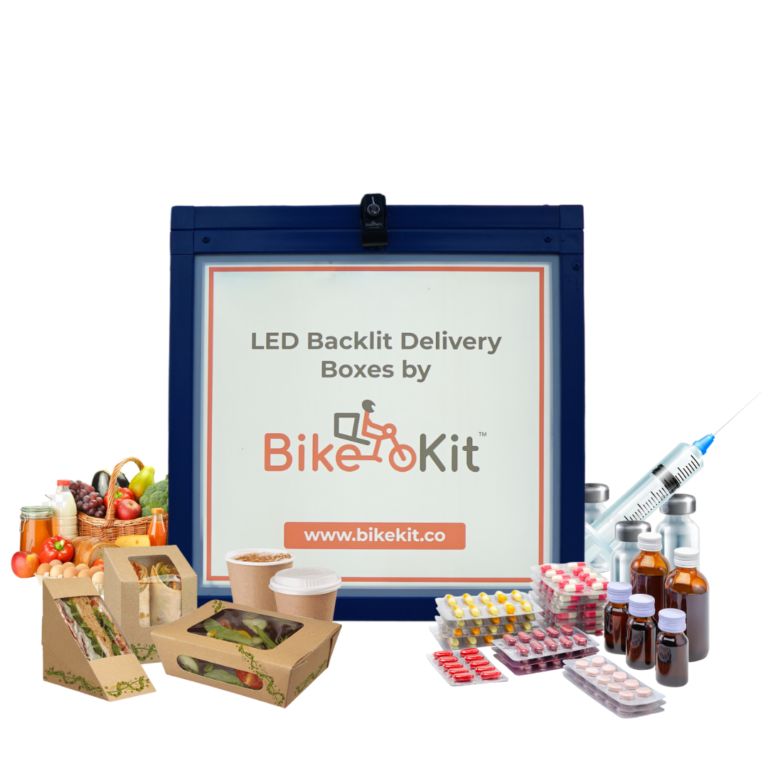 BikeKit has a portfolio of plain delivery boxes and bags and LED delivery boxes and bags, however, the LED delivery box is ahead of the rest for these very reasons:
Known to be the most innovative product, LED boxes are modular and need assembling before use. This saves space while shipping.
Depending on the requirement, one can select from any of the two sizes that measure 45×45 cm, and 50×50 cm.
The LED delivery box has a back-lit LED panel that measures 46×43 cm on three sides and because they provide 12W of uniform lighting, a biker is visible even from a distance. This provides a lot of safety to the rider even in a dark alley.
One can select the color of the LED box and get logos and company branding done on all three sides. This feature makes it a popular platform for company branding purposes.
The LED delivery boxes are patent-pending.
The best part of the LED delivery box is that cooling or hot modules can be added. Thus a restaurant can deliver food or drinks of the customer's choice.
As one of the best LED Box manufacturers in UAE, BikeKit provides exceptional after-sales service support through warranty and AMC. The company is also in the process of appointing distributors in different locations.
LED delivery boxes and bags are a top-notch marketing solution for brands seeking hi-octane visibility. Kudos to BikeKit for coming up with this winner of an idea that merges convenience and utility for B2B businesses, and has even turned the tables on traditional methods of marketing.